Ah, it's always a bad day, those first returns to the working place after a holiday, however short it may be… better not talk about that…
Generally speaking I am not too much into historical wargaming or rather: I used to have not too much interest… but for quite some time I just couldn't ignore some great miniatures out there for historical games. Just think about Warlord Games, Perry Miniatures or even Battlefront with their Flames of War 15 mm miniatures…  they are all wonderful pieces and there are dozens of smaller companies, too…
I already collect some Hail Caesar! (formerly – yet still – known as Ancient Armies)  and Pike & Shotte Miniatures from Warlord Games, more or less just because I like them – I still lack a proper system to play with them (though that's more because there are too many systems to choose from… need some time to evaluate them).  But here's a very small german company that revently caught my eye, too: Pro Gloria Miniatures, more or less a one-man-company of Mr. Stephan Huber, unless you include the commissioned sculptor, renowned Paul Hicks, and the ever-talented painter Andrew Taylor.  They have specialised on civilian and Landsknecht miniatures of the 15th/16th century and even though I have little interest in collecting an army of such miniatures, I surely am interested in acquiring a bunch of those just for fun!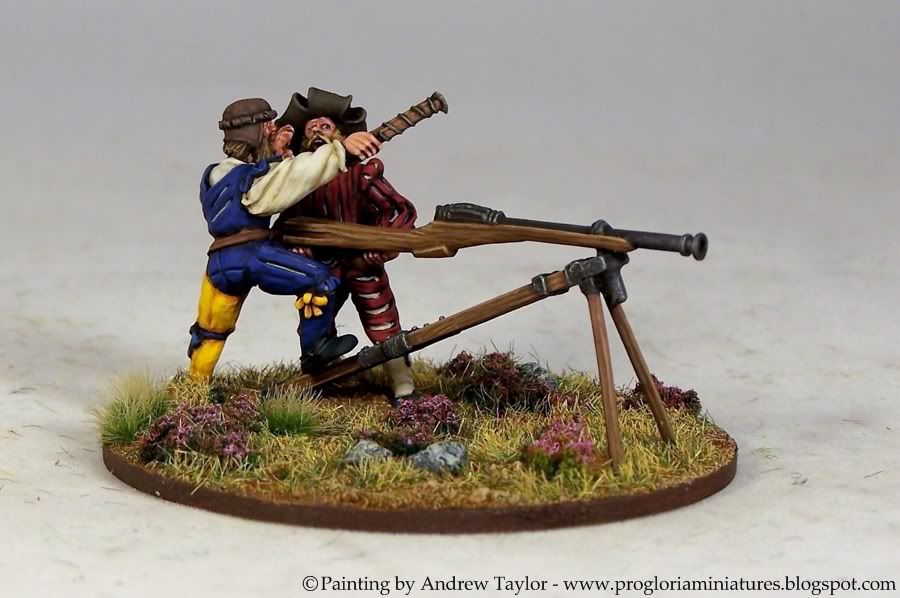 Unfortunately at the moment this company lacks a proper website. There's only a blog and a catalogue – and it should be noted that the latter one lacks this splendid hackbut and at least one miniature of a plundering Landsknecht, even though both of them still seem to be available from the company.
But even more than the Landsknechts, I love the civilian packs the company produces. While they might lack some of the weird humor of Bruegelburg (one of my favourite line of "I just like the look of those" miniatures – I should run some Crow's nest on them, too, shouldn't I?), they sure bring back some humor into the sometimes all-too-earnest world of historical wargaming…
It's a minor pity they sell their miniatures in packs of four, as there's somehow always one or two I don't really like… but just look at the sleeping guardsman and the herald here – not to shabby, ain't they? Those would do well in some Empire army for Warhammer Fantasy Battles, too (though that's an army I don't play).
But the aforementioned plundering Landsknecht is clearly one of my favourites…
While they should end up slightly smaller than your usual Warhammer Fantasy miniature (unfortunately not included in the size comparison provided by Pro Gloria), I think they would fit well enough into some Empire army or as bystanders for Mordheim – at least that's probably my excuse for placing some order there sooner or later…
I'll definitely wait for their next releases, though. Their first set of personalities – Götz von Berlichingen, Emperor Maximilian I. and Georg von Frundsber – are just too nice to miss, but even more…
… those gambling soldiers. No way to make an order without those, I guess…
In fact the only things Pro Gloria does which does not interest me are their flags… sure they are nice, but I prefer printing my own… but then, everybody's to his own… anyway, take a look at their site and place an order, if you like. One should always support those small hotbeds of creativity!
And, of course, once I order some miniatures, I will review them here. Just you wait and see…